Bok Choy Coleslaw
2 heads bok choy, sliced
6 radishes, sliced
2 spring onions, sliced green and white parts
1 cucumber (optional)
Dressing
½ Cup White or Rice wine Vinegar
½ Cup Sugar
In a small sauce pan heat sugar and vinegar until completely dissolved.  Place mixture in a small bowl and chill for one hour.
Meanwhile, slice bok choy, onions, radishes and cucumber.  Feel free to add any other greens, kale, shredded carrots, cabbage, or peppers.  Toss slaw mixture in a large bowl and add cool dressing.  Finish with a bit of Kosher salt and fresh cracked black pepper.  This slaw is great on a sandwich, over pulled pork or alone a a side dish.  Unlike traditional mayonnaise based coleslaw it does not store well and should be served fresh.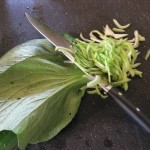 Print/PDF/Email